2:30AM Grace picked me up from the station.
2:40AM Sat in the car and ate Maccas (aka McDonalds)
3:00AM Finally home.
3:05AM Sleep-time ZzzzZzzz
10 AM I woke up to witness this beautiful sunshine and would not let it go to waste!
I got dressed and walked up to the park to take some pics for my outfit for the day. Luckily, we went when we did, because the weather (although beautiful) was being so bi-polar - sunny, cloudy, gloomy, drizzle-izzle, sunny. ehhhh so annoying! Anyways enough about the weather. Check out the Zimmermann leotard I'm wearing, how amazing is it? It's not mine though, I've got to credit my cousin Jovz for it. I am so lucky to have a cousin who has a wonderful wardrobe, beautiful style and who lives literally a few streets away from me. I was so stuck on what to wear on saturday night that she lent me two out of her 198734739472 Zimmermann pieces, - She lent me this leotard and this dress/shirt/tunic thing with cut-outs which I ending up wearing on saturday night and I'll post later. The leotard keeps with the classic Zimmermann vibe, mirror patterned fabric created not by print but with holes in the garment and this beautiful blush pastel colour to keep it feminine - which I absolutely adore. I like that when I paired it with the Glassons sheer throw over and hi-waisted shorts it really gave it a softer edge to the look. Thanks to Jovy, I've fallen head-over-heels for the originality in Zimmermann's designs and soft silk fabric. Marry me?
I feel a bit Janet Jackson in this picture. It reminds me of some 1990's album cover. haha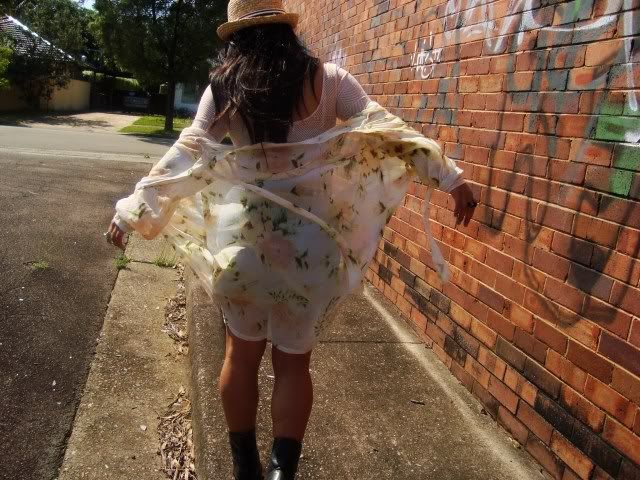 I wore: Sportsgirl Hat, Zimmermann Leotard, Glassons throw over, Rubi lace up heels, Supre belt, DIY cut hi-waisted shorts and diva and ebay rings