Writing back into the blogesphere, I think it's only fitting that I start at (possibly) the greatest night of my life thus far - bar the night I was born, I give you Lady Gaga's Born This Way Ball. A night or should I say day week of Lady Gaga Madness! For those of you who follow me on Twitter and/or Instagram you may have caught on to the lengths I went to ensure that this night was magical. Costumes were designed, materials sourced and shipped, with screw drivers, pliers and my cousin's muscles all in check. You wouldn't believe it but there is a lot I found out about while in this manic costume frenzy. Some more obvious than others - excuse my ignorance. 1. Rivets are not the same as screwbacks 2. Bunnings men hold the key to all DIY projects including Lady Gaga costume's 3. PVC is a scarce material. To my surprise all lincrafts & Spotlights in over 5 suburbs closest to me we're sold out. Even my Aunty who is obsessed with covering her tables, chairs and floors with it was out but never fear Bunnings is here! 4. Bunnings = Life savers 5. Sewing PVC is harder than it looks 6. Hot glue gunning is addictive. Odds may have been against me with things going belly up more than once but they're all life lessons I say!
And so 132 screws and rocket spikes later... the 'weapon' and/or belt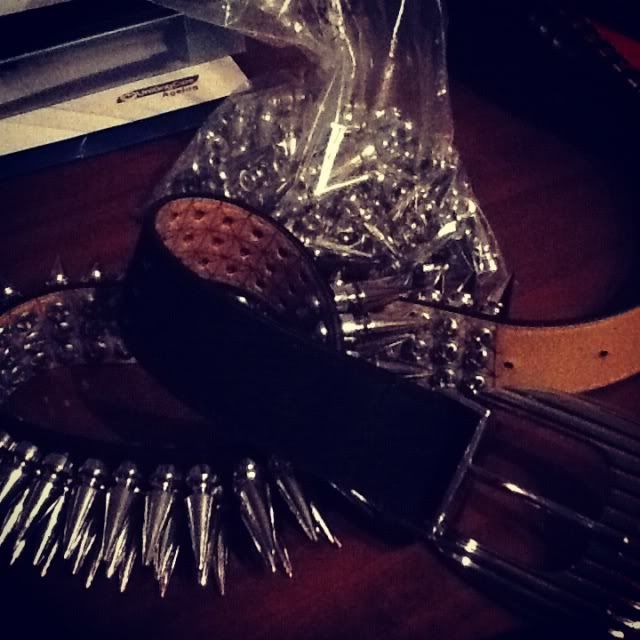 With costume complete, it was hair & makeup time with a 8:30am hair appointment to start. Gaga, I'm ready for you.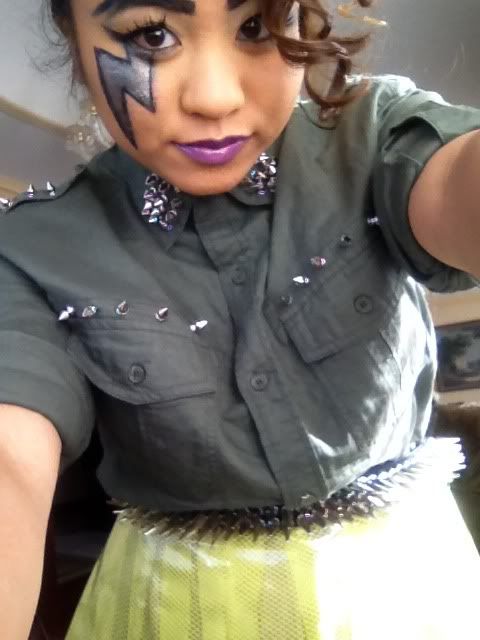 Customised Khaki shirt from Kmart, Spikes from Marish Accessories, DIY PVC skirt with green mesh & plastic layers., DIY spiked belt.
At 2:30pm we joined the line with all the other little monsters who had been lining up since 8AM, all in the hope to get into the exclusive Monster Pit - basically a secluded mosh pit that was surrounded by Gaga's main stage & ramps. With our 'late' arrival I thought there was really no chance of us getting into that Monster Pit. But luck was on our side. Down waddled a security lady with a box of orange wristbands - Monster Pit wrist bands! Was this our golden ticket? Indeed it was! We were number 260 and 261 to get into the Monster Pit. At this point there was only pure bliss and monster smiles.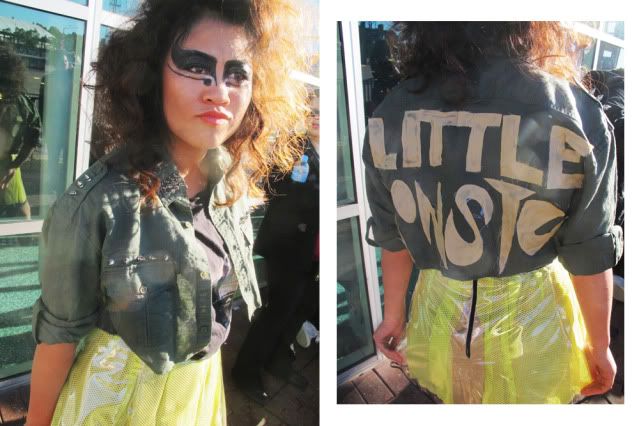 Angelica rocking her Gaga fro & Gaga meets Black Swan inspired makeup
Of course, after 5hrs of waiting and waiting, moving to new lines and waiting some more, we were cold, shivering and just dying to get inside. It all paid off scoring a comfortable position in the Monster Pit with bonus platform giving this shorty maximum view. There was no pushing, sweating on each other or passing out. It was the most relaxed 'Monster' Pit I've ever been in - that's until Gaga came on. Boy, do these monsters know how to dance! With our paws up we rocked out to every song she sang including a few older songs - yes she sang my favourite, Alejandro. Her set began as a castle and opened, rotated and changed revealing the insides of the castle which at one point showcased a revolving wardrobe with 6 of Gaga's most iconic outfits like the Kermit the frog dress, bubble dress and architectural metallic dress she wore during her Monster Ball tour. It was not a Lady Gaga Concert. It was ultimately, Lady Gaga The Musical! Her costumes did not disappoint either - emphasis on the plural. Every song meant a new costume and it. was. UNREAL. The cherry on top of my curled mohawk and lightning bolt face was seeing someone so inspiring perform literally half a meter away from me. As people chucked their wallets, wigs, and hilarious barbie dolls at her in order to be chosen to go backstage, I resisted chucking the only detachable part of my costume that wouldn't have left me naked, my 2kg spiked belt. For obvious reasons:
A. It wouldn't have reached the stage due to my lack of muscle
B. She's already been concussed once this week, two would just have been pushing it
C. I'd imagine being escorted out of the Monster Pit would not be fun.
D. All that waiting would have been for nothing
In between the jumping, dancing, singing and screaming I did manage to capture a few moments. Here are my favourites: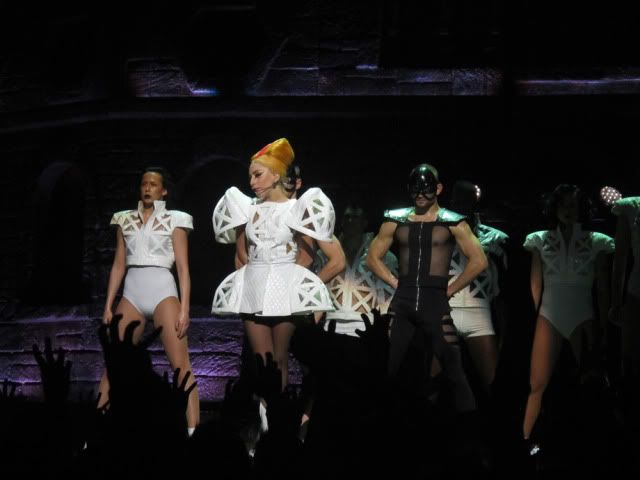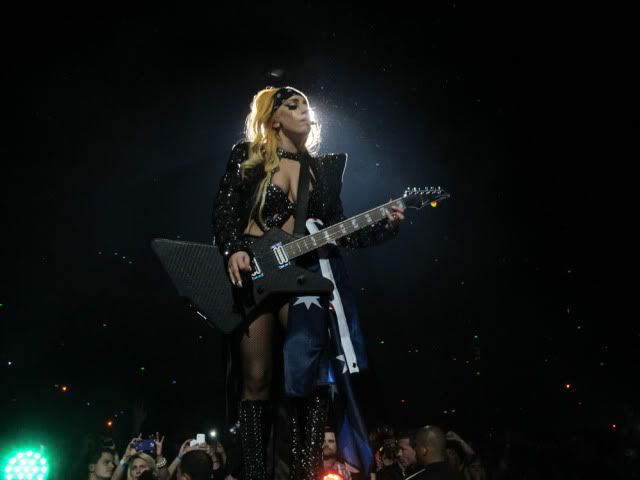 She sang, she danced, she spoke, she performed. Lady Gaga is an inspiration and evidence that anything IS possible.
"Don't be insecure if your heart is pure"